Bulk Upload of PINs
The hosts can now upload the callers to their events on the Conference View / Edit page through Excel files or the CSV Files.
Here are the instructions on how to upload a file:
1. On the Meeting page of the conference, click on Callers and PINs.
2. Click on the button Upload Registrants.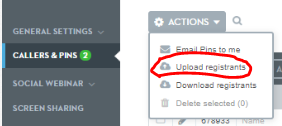 3. Click on Upload from Spreadsheet.
4. Click on Choose File.
5. Select the file that you want to upload and click Open.
6. Click on Preview.
7. Select the Email Option:
- Yes, email PIN to every registrant when uploading process is completed
- No, no email at this stage. (If reminders are set to this conference, email reminders will be sent to registrants
8. Click on Proceed with Upload.
9. If you need to upload more registrants, click on Upload More Registrants; otherwise, you can click on Back to Edit Conference Page.
Help Notes:
The supported file formats are *.xls, *.xlsx and *.csv files

The records will be sorted by the system and displayed accordingly as per:
Presenters

Assistants

Participants
A maximum of '1000' Registrants cab be uploaded to a conference at once.

If the host wants to add more than 1000 callers, he would need to upload the next 1000 callers (or less) separately.

If the size of the file to be uploaded includes more than 1000 entries then the entire file would be rejected and the host will see an error.

Here is the template in uploading the file. Copy this template and paste it on an Excel sheet.
| | | | | |
| --- | --- | --- | --- | --- |
| role | name | email | custom1 | custom2 |
*To Copy the template, highlight it (from Role to Custom2), right-click on your mouse and click on Copy. Paste it on an Excel sheet.
*You can also Type the words in Excel but please make sure you type it exactly as you see it on the template.
When entering the list of registrants, please note that all fields must be populated. If, for instance, you're not going to use the Custom 1 and Custom 2 fields, you can mark it with NA or you can put in anything just to keep these fields populated.

Just a friendly reminder, please use the email option carefully to avoid spamming.