Zapier gives you the power to integrate MaestroConference with hundreds of other services to automate your work, including HubSpot, InfusionSoft, MailChimp, Google Docs and many more.
For example, you can automatically add your conference attendees to a sequence in your CRM, and non-attendees to a different sequence, without writing a single line of code.
Zapier integration will be included on Standard Plans and up, but is available on all plans while it's in beta.
Here's a short introduction video:
Supported triggers
A trigger is any event that sets a Zapier workflow (or "Zap") in motion - for example a new registrant to a conference. These are the triggers we currently support:
New Non Attendee - Triggers when a registrant doesn't attend to a conference
New Registrant - Triggers when a new registrant is added to a conference
New Attendee - Triggers when registrants turn into attendees to a conference
New Opt-In - Triggers when somebody opts-in to one of your offers
Note: the beta version doesn't support any actions yet, so for example you can't automatically register a group of people from your CRM to a conference, but we will be adding support for actions in the future.
In the example below we'll show you how to create a Zap to send your conference registrants to a Google Spreadsheet.
The first thing you'll need is to sign up for a free Zapier account (Zapier accounts are free, but some integrations such as HubSpot or Infusionsoft require a paid account). Once you're logged in to your Zapier account follow the steps below.
---
1. Create a Google Spreadsheet
This will be the spreadsheet where your event registrants will be stored. Head over to Google Drive, create a new spreadsheet named "MaestroConference Registrants" and add 3 columns: Name, Email, PIN.
---
2. Set a Trigger
1. Log in to your Zapier account and click this invitation link (our Zapier application is still in beta, so you'll need an invitation to use it).
2. Click the Create this Zap button.

2. Name your Zap "MaestroConference Registrants".
3. In Select MaestroConference Trigger, select New Registrant and click the blue Continue button.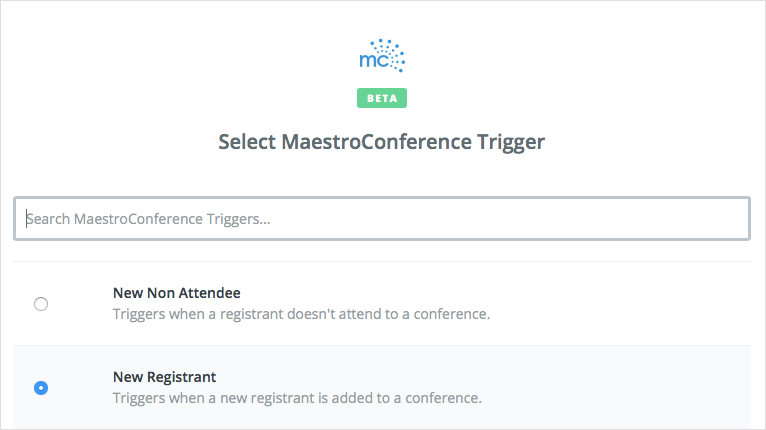 4. Click Connect a New Account to let Zapier connect to your MaestroConference account.
5. In API Key you will need to enter your Zapier API Key. Log in to your MaestroConference account, click on your name at the top-right of the screen and select Settings.

Then scroll down to the bottom of the page and click on Integrations to expand it. Copy the Zapier API Key, go back to Zapier and paste it in the API Key text box.

6. In Conference UID, you will need to enter the UID (Unique Identifier) code of the conference that your participants will be registering to. Go to the conference edit page and copy the UID alphanumeric code that's right below the conference name.

7. Go back to Zapier, paste the copied code in the Conference UID box and click Yes, Continue.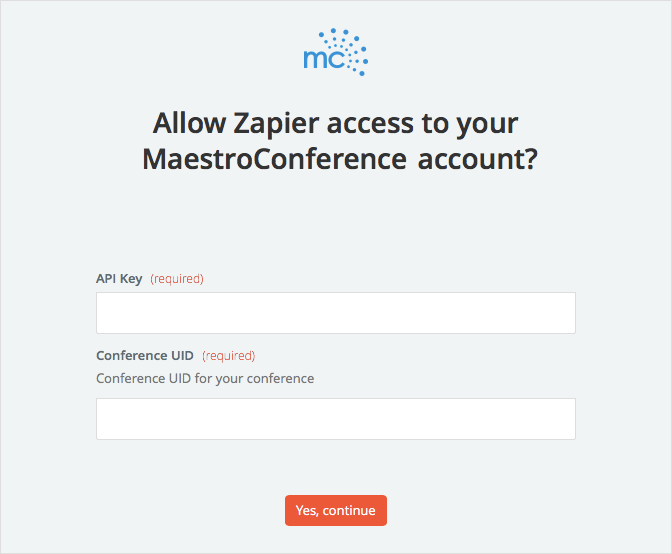 8. To test the connection, click Test. If everything was entered correctly you should see a green "Success!" message. Click Save + Continue.

9. To check that everything is working correctly, Zapier will try to fetch an existing registrant, so before completing this step you'll need to create a test registration to your conference. Once you've done that, click Fetch & Continue. if everything went well, you should see a "Test Successful!" message. Click Continue.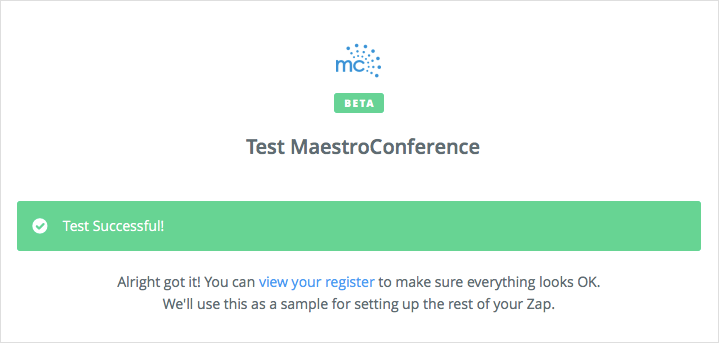 ---
3. Choose an Action App
1. In Choose an Action app, search for "Google Sheets" and select it.

2. In the action to perform, select Create Spreadsheet Row, and click Save + Continue.
3. To allow Zapier to access your Google Docs account, click Connect New Account, select your Google Docs account and click Allow (if you're not already logged in to your Google Docs account, you will be asked to log in.)
4. Click Test to test the connection. You should see a green "Success!" message. Click on Save + Continue.

---
4. Set Up Your Spreadsheet
1. In Spreadsheet search for your spreadsheet named "MaestroConference Registrants" and select it.
2. In Workseet select "Sheet 1"
3. In Name, PIN and Email, select the corresponding "Name", "PIN" and "Email".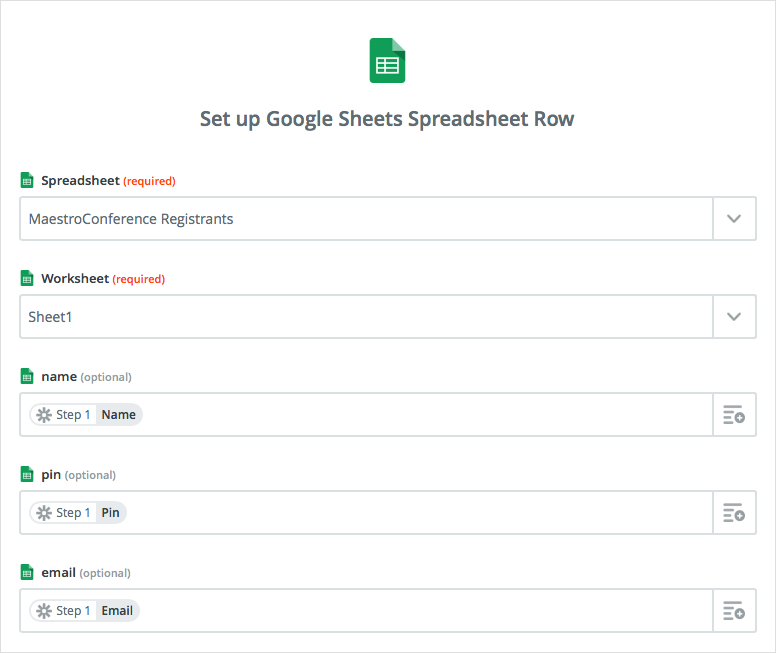 4. Click Continue. In the next screen Zapier will tell you that it will create a test row in your spreadsheet, click Create & Continue. 
5. You should see a green "Test Successful" message and if you check your spreadsheet, you'll see two new rows: one that says "Added by Zapier...", and another with some test registrant data.
6. Click Finish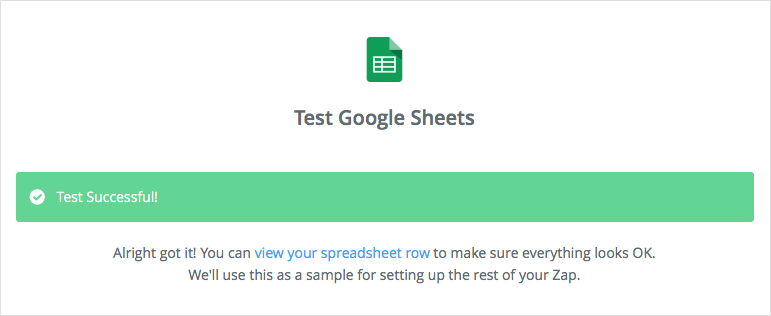 Finally, click the switch button to turn your Zap on, so anyone who registers to your conference will be automatically added to the spreadsheeet.

For more information about creating Zaps with other services, visit Zapier's Learning Center.