Creating a Conference
Log in to your MaestroConference account (contact us if you have trouble logging in)
Click Conferences at the top of the page
Click the green Create Conference button and enter a Conference Name
Enter a Contact Email - this is the email that participants will see when they register for the event
In Call Type select:
Scheduled: One time event where you set the Start Date, Start Time, and Duration (all times are in PST.) Enter the Estimated number of callers.
Reservationless: Can happen anytime, so it's good to use for impromptu, ad-hoc conferences. A reservationless conference will always use the same PINs and is limited to 25 people.
Click the Create Conference button.
---
Conference Settings
Participant Web Experience
Here you will specify the type of event you would like to host.
When you are to set up your call, go to the View/ Edit page by either clicking the title of the conference or the Edit button. Once you click on any option from the left panel, you will be prompted to select the type of event you prefer.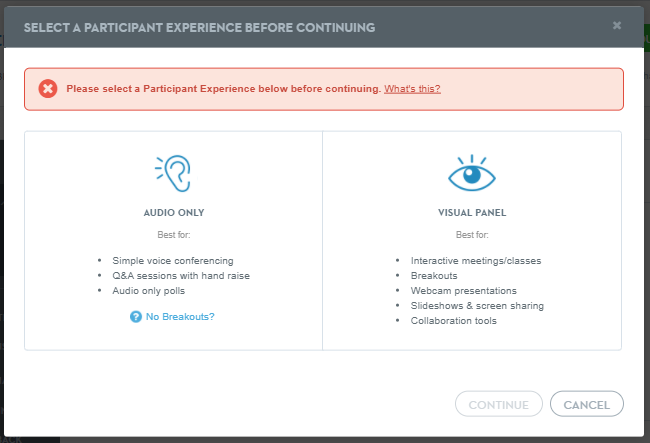 We recommend using Social Webinar for all your events!
Adding Participants
In order to invite participants to your meeting you will need to select one of the following options:
Option 1: Copy/paste the Caller Registration Link into an email or share via social media, this allows participants to self-register and obtain their call-in information.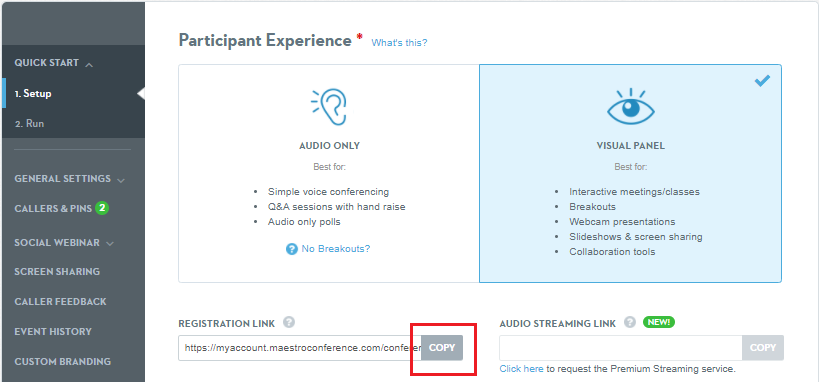 Option 2: As the host - manually add participants by visiting the Callers & PINs section, click Add Participant, this will generate the participant's 6-digit PIN. Then click on name and email to enter personalized information. Hit enter or click the green check mark after you complete each entry.
Option 3: You may also enter participant information by uploading a spreadsheet or CSV file. Please click Upload Registrants and follow instructions to upload your file. For more comprehensive directions, click here.
Note: As the host, you can return to the Callers & PINs section at any time, click Download Registrants and export a spreadsheet with participant information.
Enabling Video in your Events
With MaestroConference Video, you can have everyone in your conference turn their webcams on! This feature is available on MC Video subscriptions.
On the View/ Edit page, select Social Webinar > General.
Check the box across "Enable Video".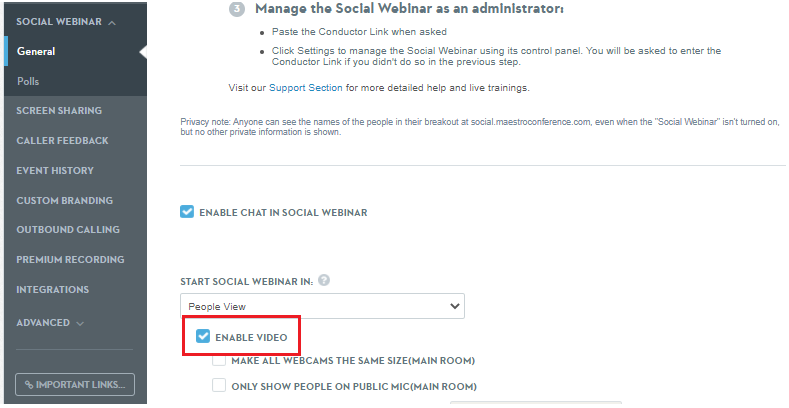 If you are on a MaestroConference Video package but do not see this option, please contact Customer Support. If you aren't yet, visit https://maestroconference.com/mcvideo-launch for more details.
---
Other Options for Further Enhancing Your Conference
Conference Visibility
If you opt to make your event "public", MaestroConference will display a list of public available events on our website, which will help you get the word out about your work!
Registration Settings
This is another place to see the registration URL. You can also customize the message for all confirmation and reminder emails. This is also where you can find any registration comments.
Create Custom Fields
Custom fields are used to allow advanced sorting of participants when they are in the event. You can sort your participants in the event into breakout rooms. These are limited to simple values, which must be pre-determined by the host.
Outbound Calling
When Outbound Calling is activated, the person trying to get in will receive a call which will let them join the conference. This feature is available to Presenters, Assistants and Participants. Outbound Calling is currently available to reach callers with US numbers only.
Survey Settings & Results
This is where you can enable/disable the Participant Survey and where survey results are displayed once submitted.
Advanced Settings
This section is where you will find the actual URL of the Conductor Interface for sharing with other presenters. (The Large Call Conductor Interface is only used by our Event Technicians, who will use this special tool to run large calls.)
Event History
Here you find historical data about the event. Call recordings, list of participants who attended, or did not attend, list of registrants, Caller ID information of all callers, duration of the call and more.
Screenshare
The Screenshare section is where you will find all the URLs and links to start the Screenshare tool. Only one person can use the link "Launch the Presenter" at a time. Other conductors who will be conducting a Screenshare session must use the co-presenter URL listed here. The Viewer URL is for participants' use and is sent out with all confirmation and reminder emails.
Social Webinar
The area where basic permissions and settings for Social Webinar are located. This includes enabling MaestroConference Video (if included in your subscription).
Premium Recording
If you look through this section, you will find the complete instructions on the premium recording feature. This is also where you manage the Premium Recordings setting. Read more here.
---
Event Time
Dialing In — For Hosts And Participants
Whether you are a Host, Assistant, or Participant, there are several ways to access an event. Help for these is available at the Getting In page and is referenced in both the email and confirmation page.
1. Registration/ Reminder Email
Simply click the Join Event button from the email and it should open a new tab/ browser (depending on your computer settings). This connects you to the Webphone and Social Webinar (if the call is on Social Webinar) in one screen. You will know that you're connected to audio when you hear the prompt "This call may be recorded, thank you. You will now be connected".
2. WebPhone
The WebPhone is our internet-based phone for Chrome or Firefox (no download required) that lets you connect to a conference from anywhere in the world for free.
Open the WebPhone
Enter your PIN and click the "Call" button
Your browser may request access to your microphone, click "Allow" in Chrome, or "Share Selected Devices" in Firefox
Use the on-screen controls to mute/unmute yourself and adjust the volume levels if needed
3. Skype
Add our Maestro4294 or MCdirect1 identities to your Skype, call them and dial your PIN when instructed.
Using your Phone (landline or mobile)
This is the easiest way to connect if you don't have an access to a computer, or you're on the move.
Instructions in dialing in using your phone are included in registration emails, and reminder emails if these are enabled by the host for the conference you are attending.
Dial the number under the Join Event button. alternatively, or you may use (408)520-2444 or (408)740-6030. If you frequently attend MaestroConference events using your phone, you may save some of these.
A voice will prompt you to enter your PIN. This is your 6-digit access code which is also found under the Join Event button in your registration/ reminder email. Press # after the numbers. Note: Make sure that you do NOT enter the digits too fast as the automated system may not capture all the numbers you key in.
Notes:
The webphone is only guaranteed to work on computers, it cannot fully function on mobile phones and tablets.
Hosts (presenters and assistants) can call in as early as 60 minutes, while participants can join as early as 15 minutes.
Hosting An Event
You must dial in, before attempting to conduct your event.
At the time of the event, click Conduct Now which will launch the conductor interface.
A settings window will open where you can select the default mic setting for callers entering the conference.
To assign a mic setting for a caller type, just click on the mic buttons Mute, Breakout Only or Public.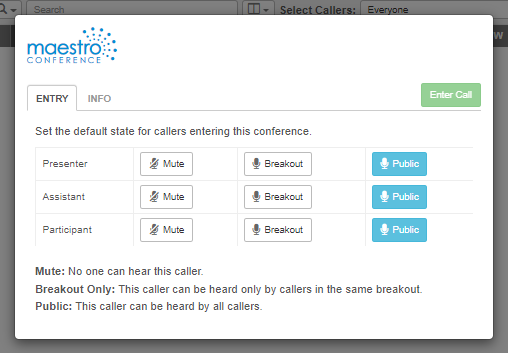 After you have checked and/or modified initial mic settings, click Enter Call.
Note: If you need to access the default mic setting page during the conference, click Settings.
During the conference, you may modify individual mic settings by clicking on participant(s) name, and by clicking the Mute, Breakout Only or Public buttons located on the right side of the conductor interface (detail panel) or by clicking on the microphone next to the participant name in the caller panel.
Participants may mute/unmute themselves by pressing "6" on their telephone keypad.
As participants dial in, their names will appear in the center column (caller panel). Summary information appears on the left side (summary panel), with a chat box underneath. Detailed information for selected callers will appear on the right side of the screen (detail panel).
Participation: Raising Hands
Participants can raise their "hands" using the 1-5 keys on their telephone keypad; by using the Skype keypad or in Social Webinar, by clicking on the numbered hands.
Results are displayed next to individual callers in the center or caller panel and aggregated in the summary panel.
Results are also displayed in the detail panel for selected callers.
Conductors can lower all hands by clicking the "Down" button in the Hands section of the summary panel.
On MC Video, participants will see the hands they raise and others' in their video screen.
Using Social Webinar
It runs itself and gives you many options!
When you are ready to launch the event, dial in as you normally would and launch the conductor interface.
To launch the Social Webinar, Participants simply click the Join Event button in the confirmation/reminder email. Hosts need to go to http://social.maestroconference.com (or use the conductor interface method outlined in step 5) if they don't have their email reminders.
Hosts need to enter their email address and PIN for the call. Alternatively, hosts can simply click their name in the conductor interface, and go to the info tab in the details box on the right, then click Login this caller.
Follow prompts to create a profile (participants will do the same). Upload a photo, contact information, and optionally link to your social media accounts such as Facebook, Twitter, Google, and LinkedIn.
To link the Social Webinar to the Conductor Interface you will need to:
If you have not done so already, click Conduct Now from your list of scheduled conferences.
Go to the address bar, and copy the entire website address (this is the conductor link.)
In Social Webinar, Click Settings, Control Panel, and paste in the copied conductor link. click Login and Save.
Once you have linked the conductor interface, you can manage what participants see on their end.
Access this by clicking Settings and Control Panel.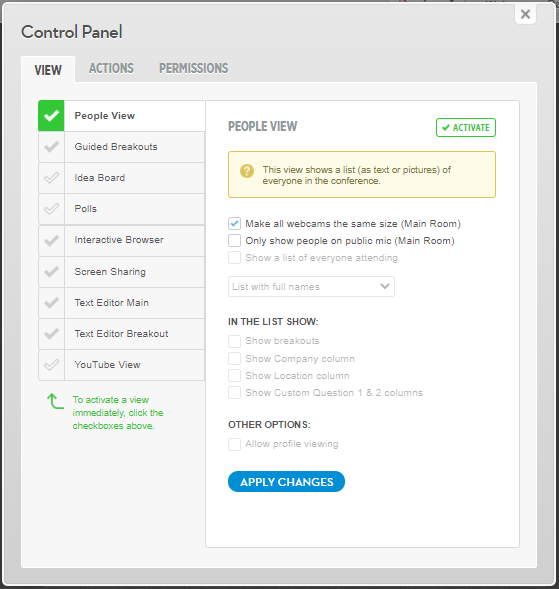 Social Webinar Views
People View
This is the default view once you enter the visual interface. When MC Video is enabled, the attendees will be asked if they'd want to turn on their webcams and when they do, people who switched them on will see each other.
Guided Breakouts
Lets the host set up a series of instructions in advance so when participants are put into breakout rooms, each group has the time to do activities through the pre-recorded guidance, not as an individual but as a group, navigating through instructions and actions at their own pace. Learn more about Guided Breakouts here.
Idea Board
In this view, participants can submit their ideas for topics of discussion. Once an idea is submitted, other participants can vote for (or against) an idea.
Polls
This allows participants to see the results of polls taken during the call. Simply ask a question, allow time for participants to respond using 1-5 on the telephone keypad, and share the data using Poll View. Here's how to run Polls.
Interactive Browser
Lets you co-browser a website with your participants by you entering the website's address into the Control panel.
Screen Sharing
Allows hosts to share their screen with participants or have an assistant take over and share their screen. See the detailed directions on how to use Screenshare.
Text Editor Main
This feature allows all the callers in the main room to collaboratively edit a document shared with the entire call.
Text Editor Breakout
Text Editor Breakout allows collaborative editing by people in their own specific breakout rooms. Each room will have its own document.
*See more about Text Editor view here.
Breakout Rooms in Social Webinar
Hosts have the option to create breakout rooms through the visual interface. It also gives them the choices to have participants rename and move around breakout rooms if they want. Here's more about creating and managing breakouts.
Note: Be sure to sign up for our Customer Success Clinics.